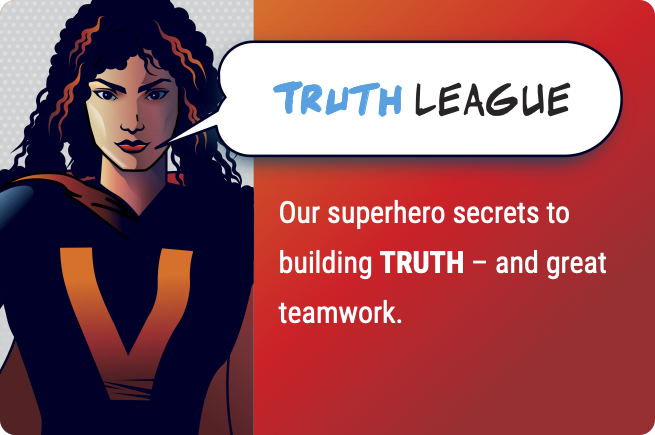 The Truth League
"I'm here to fight for truth, and justice, and the American way." This was Superman's famous slogan, created by two American writers at the height of World War II. Over the years, the "American way" part has come and gone, but the fighting for truth sentiment has remained a central theme… through hundreds of comic strips, and scores of popular films. Its central to Superman's ethos.
At Plexxis, our people also fight for and stand guard for truth. Reflected in our motto "#buildTRUTH", we do so in a myriad of ways – from honest and open relationships with our teammates, to transparent communications with clients.
And while "truth" is universally embraced at Plexxis, the unique interpretation that each of our team members brings to it, serves to further strengthen our core belief that success can never come at the cost of truth.  
Paul Glinker, lead programmer at Plexxis sees being truthful as a way to avoid mediocrity. It's integral, as he sees it, to keep everyone on the team honest about their results and performing to their very best of their abilities.
Truthful communication is something that resonates strongly with Jonathan Locke, our client services manager. For him, the fight for truth begins with transparent and frank dialogues and extends to supporting and helping empower your teammates; something you find happening everywhere at Plexxis.
"The biggest one for me is probably open and honest communication," he says.

"If we don't know where we stand and we can't communicate and ensure we're on the same page. That means it's not going to go well with the rest of the team. It's not going to go well with the customers. It's not going to go well with anyone. That would probably be the sticking point.

Being able to encourage and build up the different team members around you is also crucial. People are going to come in, they're going to be new and they're going to need handholding and support. Anyone here in the building is going to be able to do that whether they're even in your department or not. You're going to see people from implementations and support working alongside each other, building everyone up."
Jeni Mitchell, our dynamic director of client advisory services at Plexxis sees the pursuit of truth as a burning desire in the heart of everyone at Plexxis team. She cautions newbies, however, to keep expectations genuine and realistic, as the journey to truth is a long arduous one. Humility too is a core tenant of our Truth League.
It's that sense of humility, coupled with a spirit of collaboration and helping others that matters most in the Plexxis truth league.
Director of Business Development Chad Pearson was the inspiration behind the "#buildTRUTH" moniker at Plexxis. To him, anyone who joins the Plexxis team must possess great personal values – including being truthful to themselves. And beyond that, they must be an awesome team player.
"The people that do well here are the people that have that sincere desire to help others. It's that person who, once they finish their tasks, they look to see who else needs help. That is the type of person that shines here," says Chad.  

"When you're on a team that is expected to perform, and there's pressure, you may not succeed if you fail to possess our core values. It really gets down to the character of the people themselves — and whether or not an individual can withstand and perform in a high-pressure environment.

Most importantly, you must possess the type of character that allows you to work well with others. Alone, you will fail, but together under pressure, we do very well. That's really one of the things that we look for — it's not necessarily about the person's competence alone. It's about how well they work with others."
Great teamwork and succeeding together is the great outcome of 'building truth'. Ali Abbas, lead programmer ERP, speaks about the spirit of trust he enjoys with his Plexxis team that fuels their joint successes.
  "…All of my team members have that same mindset where we help each other out. We cover for our each other's weaknesses and play to our strengths, he explains.

 "That environment sets up a mindset of collaboration because everybody's willing to strive for success together. Each time the team member equates their own success with the success for the overall team and subsequently the entire organization. Because of that, I can give them the flexibility and discretion to make up their own objectives and define their own objectives so that they can tackle problems and issues the way that they need to, because I know that I have their trust. They know they can come to me if, priorities ever need to change, or if they need to discuss any shifting milestones.

The atmosphere is one of shared trust, shared risk and shared success."
Certainly, that "fight for truth and justice" is something that fires up Plexxis CEO and Co-Founder Chris Loranger. His passion drives not only truth, but the innovation and extraordinary teamplay propelling the company forward as a force to be reckoned with.
It's clear that "truth and justice" are alive and thriving at Plexxis Software today. Those core values of trust, teamwork and "fighting the good fight together" is why our people at Plexxis are so inspired, so fulfilled and fired up about their work each and every day.
Think you have the right stuff to join the Plexxis Truth League?