The Plexxis Vibe: Why our Culture is like Music
Beautiful melodies. A driving beat. And total synchronicity.
The Plexxis culture is anchored in a superhero attitude – trust, hard work, honesty, camaraderie and collaboration. And metaphorically speaking, music certainly plays a role in our superhero universe… just as it does in the Marvel world.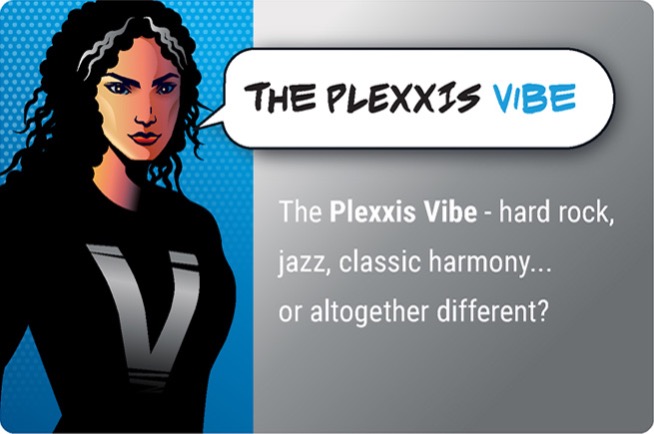 Take the X-Men's Dazzler. She entered the scene as a disco-singing hero. Born a mutant with the ability to transform sound into powerful blasts of light, singer Alison Blaire (aka "Dazzler") uses her superpower to enhance her performances.
And if you follow Marvel, you're sure to be familiar with Theresa Cassidy (known her as "Siryn") – the mutant daughter Banshee of the X-Men. The two superheroes share the same mutant gift of a "sonic scream" which enables them to generate powerful sound waves that can shatter buildings. The ability to shriek certainly translates into some fine singing skills… well at least a sound that is undeniable and memorable!
When you join the Plexxis team as a superhero, you certainly won't have to sing or play an instrument. In all likelihood, though, you may enjoy and appreciate music.
After all, this is a culture that puts an emphasis on working in harmony. Striking the right chord with our clients. Building and deploying our innovative software in perfect syncopation. Most importantly, you'll be performing alongside a band of talented players who together produce uplifting and inspiring results. In many ways, we are a bit like a symphonic orchestra, each with an essential part to play to produce a great concert.
But what type of music would Plexxis be…if Plexxis were music, that is? A hard-hitting rock song, a crooner classic or an Italian opera? Maybe something altogether different?
Most importantly, will it be your vibe to work at Plexxis?
We asked some of our gifted band members to chime in:
All that jazz.
"I was a band geek in high school… in the classical band, and the jazz band," says Kyle Porter, Full Stack JavaScript Developer.
Techno dance party.
"It would have to be some electronic or techno, says Mike Atkins, Field & Estimating Specialist.
"You have different elements that make up a song. Elements that if heard on their own, would certainly have a particular quality to them, but they're not going to sound great. But those things come together and make an actual song that sounds good, has great energy, and actually gets people going and ready to move."
Maybe there is no one set type of music. Perhaps the appeal of Plexxis is its sheer variety. That's what our Lead Client Care Specialist, Sanja Milenkovic thinks.
Organic sounds from nature.
"If Plexxis, was music, it would be low-fi or low fidelity music. Low-fi music captures natural things that happen in the world — sound of the wind, chirping birds or the scratch on a record," says Elizabeth Barton, Solutions Specialist.
A mega hit compilation.
Honestly, you can't put Plexxis into just one little bucket," says Sanja.
"Plexxis is the best music from each genre of music. Take all of Beyonce, the Beatles, Prince, and Michael Jackson — the best music from all the genres and put it together. That's Plexxis. We're of mix of everything. We're very versatile."
Finally, there is the uniqueness that is Plexxis. A one-of-a-kind culture. For Mike Stade, our Infrastructure Specialist, that's the tune we play:
"Its bluegrass. It's unique. It's like nothing else. And it hits really high notes," says Mike.
Ultimately, the musical style of Plexxis is however you might choose to hear it. One thing is certain: Working here allows you the opportunity to create pleasing results as part of a supportive group of talented team players.
Does working at Plexxis sound like music to your ears?