Build Teams. Create Products
No man is an island. Even in the Marvel Superhero world, you'd be hard pressed to find a truly lone Avenger. Even the Punisher forges surprising partnerships with Nightcrawler, Daredevil and Spiderman.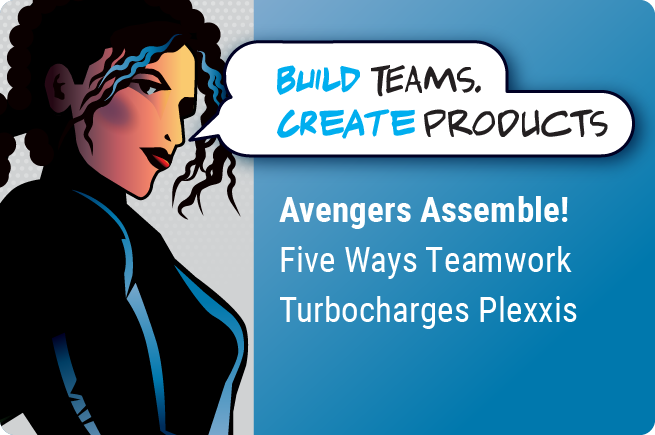 And where would Batman be without Robin? Captain America without Falcon. And Batgirl without Black Canary. 
"Avengers Assemble ", in fact, is a rallying cry that calls on the team of superheroes – all from a disparate backgrounds and each with different skills, to fight an enemy and save the world.  
At Plexxis, we believe the same is true with our own superheroes. By assembling diverse talents, personalities, and ideas, we build teams that create innovative products and ultimately drive success.
"We believe that building a team is above everything. It's not a product that we build. We build a team that builds products. The idea is to spend time together, hang out, and build loyalty with each other," says CEO Chris Loranger.
Here are five ways that teamwork turbocharges Plexxis and makes us a truly unique employer in Canada.
We work and play together.
At Plexxis, we work hard – REALLY hard. But we play hard too. The [un]common denominator? We do it together, in-person, side by side, in a physical workspace – rather than working remotely via a computer screen. 
Why? Because we believe the strongest teams create, build, innovate, laugh, relax, celebrate, and grow together, in the same location  – not separated and siloed in a virtual world. 
Our inspiring work locations both in Ontario and BC are conducive to great teamwork, relationship building – and fabulous comfort and leisure too. After all, the team that plays together, stays together – fights, wins and excels together in whatever they do!
"The new (BC) location is going to be literally 200 meters from a beautiful lake and the lakefront trail. Like our Ontario Head Office, we've got a basketball court, a games room, billiards and ping pong tables. There are even massage rooms for people who just need one but just can't get out… 
But all those amenities are primarily driven around the idea of us spending time together with each other," says Chris.
We learn and grow together.
One man's meat is another man's poison. That's what the Avengers believed – and we do too. The strengths and weaknesses of our talented superheroes are vastly different—and it's through those differences that we generate even greater energy… greater power.  
As Jonathan Locke, Client Services Manager observes:
"Programmers have different minds. Accountants have different minds… It's so rewarding because you are learning from them all the time, says Jonathan.
"You can plug into things and together think differently about things that already exist… It's the creativity, part of it: building new modules, building new apps, building new functions… and working together with the team to take it that much farther…
There are a lot of unique personalities, which can be challenging and rewarding. The best part it is that everything is new, everything is fresh. Everything is…a team working together to do what no one else has ever done essentially." 
And from Tristan Boyd, Full Stack JS Developer –
We trust one another – and build truth together.
The Avengers also shine a spotlight on just how important it is to trust our teammates… to be honest, sometimes brutally honest with one another. At Plexxis, we achieve this through a credo called "Build Truth". We uphold it with our client relationships and with each other. 
The secret to team success? Never hide anything that could jeopardize the end goal. Be truthful. Be honest and demonstrate that we care for the success of the company, the success of the team and the success of each individual. Truth in feedback is a super-powerful ingredient that we practice every day at Plexxis and it's one of the reasons our teams are so strong. 
"A pat on the back… we all love that. It motivates you to do better. But truth can be some bad news too…It's time to pull up your socks! The way I take this is … it's something that makes me better… I feel truth among colleagues makes us stronger because now we are all better," says Farrah Merchant, programming coordinator.
We overcome obstacles and celebrate achievements- together.
Whether working in a group of two or twenty, passionate in-person collaboration is one of the best things about working at Plexxis   When we have the same values, vision and mission, challenges don't define us, rather, achievements become extraordinary.
Teamwork allows us to have richer and more rewarding experiences, both in life and in our work. When faced with defeat or a tough obstacle to overcome, our team members are there to support us, encourage us – and offer solutions. 
And when we truly 'rock it' on a project and crush our goals, we can all celebrate together and share in the victory.  
Ali Abbas, lead programmer ERP, weighs in what really turbocharges Plexxis:
"It's team-oriented:  we help each other through the tough times, and we celebrate each other's achievements. It's honestly a wonderful place to call home," says Ali. 
"I can keep naming all these different people that have helped me in my journey, but all of them provide guidance, mentorship… sometimes it's: 'how to handle stress' how to manage your, expectations or how to deal with a day where you didn't feel like you got done as much as you wanted to," he says.  
"Those days are gonna happen. So, it's amazing I have people in my team that are not only able to challenge me in different ways but are also there to help me through my work problems. That, I think, is what is enables me to do my best work."
"I don't ever feel alone here, says Fiona Locke, Resource Manager. 
"I don't ever feel like I'm alone with the problem I'm working on. There's always someone I know I can turn to that will help me find a solution if I ask it. I've never asked a question for help and gotten a "no" in response. And that's really important. If you don't feel supported by your coworkers and your fellow management team, that can be really deflating and really, it doesn't push you to be your best."
We're better together.
As the saying goes, united we stand, divided they fall. 
At Plexxis, we genuinely believe that success is dependent on building people and teams FIRST.  It's only through our superheroes, that we can then create extraordinary products for our customers. With this clarity in priorities, we work together as a committed, supportive, tough, and innovative team to make what many believe is impossible… possible. 
"It inspires me seeing the team push themselves, they push themselves beyond their limits, beyond their knowledge to always improve and do better. That inspires me to do the same. To step outside of my comfort zone," says Fiona.
Monique Mehew, our National Sales Rep, sums it up best with a powerful analogy:
Are you looking to join a superhero team– and feel you would be a great fit at Plexxis?