What it Takes: That Certain "Plexxis" Something You Need to Succeed
How we kick "same old same old" to the curb
In the Avengers, each character brings to the table extraordinary powers and spectacular talents.
No superheroes are exactly the same and the key is this: when "Avengers assemble" they become an extraordinary force to be reckoned with.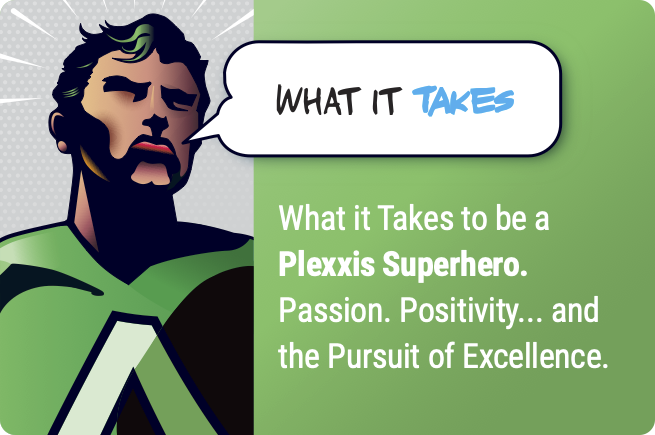 Drax has brute strength. Antman has that amazing shrinking ability – enabling him to go anywhere and do anything without being seen. Black Panther has genius-level intellect, superhuman strength and really sharp claws.
But what kind of special powers does it take to succeed at Plexxis?
After all, as a team, each one of us possesses a special talent that makes us all bigger, faster, better – and unbeatable. Ask anyone in our company and they will tell you how we are all unique individuals, but we are stronger together!
We asked some of our own Plexxis Avengers to expand a little on what it really takes to make it here.
"Grit and determination, says Mike Stephens, Client Care – Leader.
A passion for putting the team first.
At Plexxis, a responsible attitude is vital, but there is also a certain drive required to do, be and achieve more as part of the team. Sanja Milenkovic our Lead Client Care Specialist, has a few words to say on this – and how everyone here 'has each other's back':
"You have to be the type of person who wants to be challenged, wants to work hard and is truly dedicated, says Sanja.
"Definitely there's no room for slacking off or not being a team player because it all ties in together. If you don't do your part, you're going to let somebody else down and they're going to have to pick up your slack. And, and that's just not the environment that we have here."
Taking pride in your work – and helping your team succeed
Another quality that characterizes Plexxis superheroes is a drive to produce the very best quality work. No clock watchers, time wasters or prima donnas here. Everyone is motived to put their best foot forward on behalf of their team.
"If you're looking for a job, but want to work nine to five, clocking in, doing your hours and clocking out, you're not going to make it here, says Mike Atkins, Field & Estimating Specialist.
"You have to take pride in your work. And when you're done your work, you have to take pride in your team's work too. Everybody's looking around and I'm going down the hallway and seeing what others are doing and helping them out. You have to want to help."
Hunger for challenge. Fearlessness in the face of adversity
Plexxis is no workplace for the "easily discouraged." People here look at every obstacle as an opportunity – and also own up if they fall short. Our Solutions Specialist, Elizabeth Barton, remarks on that spirit of fortitude and soul of truthfulness that every Plexxis employee must possess.
"I think it takes a lot of internal drive. You want to always be the kind of person who's pushing the limit, who always wants to do more, do better – and truly excel," says Elizabeth.
"It takes someone who finds a lot of enjoyment in difficult challenges –having the opportunity to solve them with excitement and enthusiasm.
"But the right fit at Plexxis is also someone who values strong and really open relationships with their coworkers. At the end of the day, if you make a mistake, it's that someone who is going to own up and acknowledge it, then move on and learn from it."
Taking chances. Reaching for opportunity
Are you a risk taker? Someone who seeks out new opportunities and is willing to go out on a limb, even risking failure? Then you might have what it takes to join the Plexxis team. Kyle Porter, our Full Stack JavaScript Developer, weighs in on this:
Have you got what it takes to join forces with Plexxis?
If so, we would love to hear from you.
Submit your resume and let the adventure begin.