What it Takes to be a Superhero
Each year, we all wait with bated breath for the release of the next blockbuster superhero film. Snake Eyes. Black Widow. Spiderman 3. Why do we love these superheroes so much?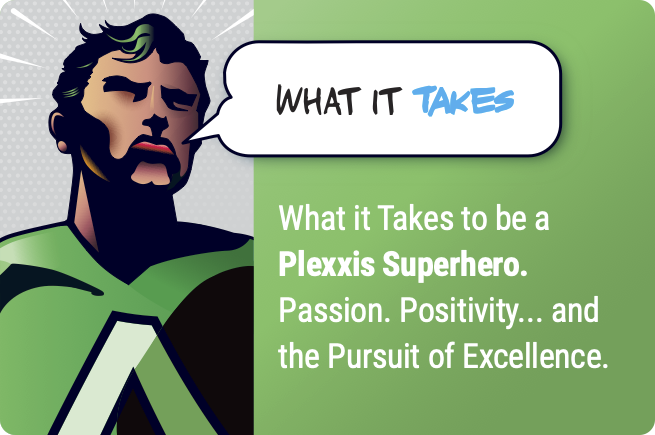 Sure, these films are exciting to watch. But perhaps they also speak to something deep inside of us. A desire to do and to be more. They show us qualities and strengths we'd all love to cultivate in ourselves.
Obviously, none of us can fly (without a plane ticket).  We don't have X-ray vision or the power to turn invisible. Being a real-life superhero, however, isn't about physical strength and magical powers.  It's about having great values, personal initiative, confidence – and, most importantly, inner strength.
At Plexxis, we believe each and every one of us working here are superheroes. And it's not just a fantasy. We are careful to select only those individuals who possess what we believe are true superhero qualities. 
What does it take to join the team at Plexxis Software? 
We asked a few of our own avengers. For most, it all came back to the Plexxis core values. Director of Business Development Chad Pearson explains:
Be accountable.
So, what are some of these core values that help Plexxis hire and retain a superhero team? Tristan Boyd, a Full Stack JS Developer, emphasized "character" and accountability as must-have prerequisites to working here.
"The first requirement is being able to accept criticism and apply it to your life. What that requires is a certain strength of character. After all, if I'm afraid to accept criticism, that says I might be afraid of who I am, or how I appear to you. That core insecurity can be a real problem if you want someone to grow and integrate with a team," says Tristan Boyd. 
Build open and honest relationships.
"The second part is being able to communicate positively with your team members so that you don't let their shortcomings harm the institution, he says. "It's pretty challenging to give that feedback to other people without souring your communication channel.  What's really special about Plexxis is that it allows that criticism to flow without fear of negative repercussions." 
Be passionate, determined, and relentlessly pursue excellence.
For Fiona Locke, our resource manager, the key to getting hired and succeeding at Plexxis is less about the experience on your resume, and more about personal drive and potential. She describes yet another "core value" that Plexxis employees possess:
Promote positive team spirit: be supportive and helpful.
Positivity is another personal attribute that is simply non-negotiable for Jeni Mitchel, director of client services. In her view, you must be a person with that upbeat and helpful disposition to find success at Plexxis:
"It's about attitude. The positivity day by day that you bring to the office. Because we're such a tight knit team. Think about how somebody coming to the table in a bad mood can affect those around them. We all always try to stay as positive as possible – and are always leaving a window open where we can put our hand out and help those around us with whatever is in front of them," she says.
"So, it's really about, once you get your own tasks done will you help those around you? I'm realizing that there are several times a day, when you will see opportunities where you can help your colleagues and excel your own learning at the same time".
Relentlessly pursue excellence.
At Plexxis, we never settle for "good enough" because "good" is the enemy of great. We never follow: We lead. And we do this through relentless innovation and an unquenchable thirst to delight, surprise, and exceed what is expected.
Jonathan Locke, our manager of client services speaks to this final essential core value for all Plexxis superheroes:
"Hard work ethic. It's tough here…we're doing what no companies are doing with changing the game for the industry. So, a commitment to doing hard work is very important," he says.
That hard work ethic, however, brings a host of rich personal rewards. As CEO and founder Chris Loranger explains:
Grit, stamina, and a competitive nature.
When it comes to superhero attributes and "what it takes" to succeed at Plexxis, Monique Mehew, national sales, sums it up nicely:
"We are particular about the people we allow into our team," she says.
"You need to possess grit. You need to possess a stamina. You've got to possess a competitive nature because we're all hungry. We're always striving for the best and holding each other to be the best. A relentless pursuit of excellence, I'd have to say, is probably number one."
Although Plexxis is a leading software company, you don't need to have years of experience or a pile of tech certificates to be part of our success story. What it takes to succeed here is not something taught at university. Nor can it be learned in a work placement. 
It's something deep inside of you. That superhero spirit… waiting for an opportunity to soar!
Got what it takes? So you think you possess the core values and character we're seeking at Plexxis?