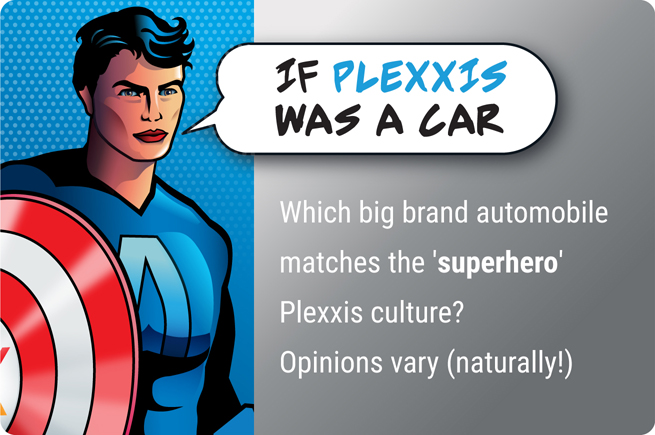 Every superhero has their special "wheels". Trademark "hot rods" that define and exude their image, style, and special powers. Certainly, there's no more iconic supercar than Batman's Batmobile – both a heavily armored tactical assault vehicle and a custom-built pursuit and capture vehicle used to fight crime.
Iron Man, one of Marvel's most popular superheroes, also loves his 'souped up' drive. He has many of them, in fact. Although he's equipped with special armour that gives him flight, billionaire playboy Tony Stark possesses a garage full of exotic fast cars. Interestingly the classy and uber cool Audi R8 has become Iron Man's trademark car ever since the blockbuster 2013 film.  
But what about Plexxis? After all, this is a superhero workplace, so what automotive brand would be the best match for our persona?
Which super cool vehicle would epitomize the culture of an innovative and unstoppable software company?
To get different perspectives on what that car would be, we asked a group of Plexxis insiders and received some interesting replies.
Some equated Plexxis with that famous luxury car:
"Plexxis is a Ferrari… based on the speed at which it operates, the velocity of team collaboration, and the efficiencies that we're able to capture. It truly is top of line," says Monique Mehew, national sales rep.
Chad Pearson, director of business development agrees:
"Why do I say Ferrari all the time? We are the high-performance choice, like a vehicle that comes at a cost, but you also get all the added value we bring," 
For others, like resource manager, Fiona Locke, it wasn't the prestige… a number of high-end features that typified the Plexxis car; It was toughness. They were inspired to choose a vehicle based on power, durability, and heavy-duty work ethic:
Tristan Boyd, our Full Stack JS Developer took a similar view, but chose an even more iconic workhorse:
"John Deere tractor.  Not attractive but hardworking. OK… well not a car exactly but it's unassuming. No flash. No bullshit. Yeah. John Deere. That's my vote."
Perhaps the most creative and lively analogy for the Plexxis car came from Jeni Mitchell, director, client advisory services:
As comparable and vivid as these choices are, there was one car brand that shone out. A majority of Plexxis people agreed that this one highly advanced automotive of the future was the company's real doppelganger.
"I would say Tesla," says corporate counsel Eric Nguyen.
"Not because it's, an electric vehicle and all that. But because its founder Elon Musk is a disruptor. Automakers didn't want to produce electric cars – but they HAD to because Elan created them. Now they all have to follow suit," he says.

Tesla is disruptive and Plexxis is the same because our systems incorporate everything from estimation to accounting. Prior to us, everything was separated and segregated. We disrupt the industry, and we continue to do it…We're innovative…just like Tesla." 
CEO Chris Loranger also concurs that the Plexxis super vehicle would definitely be a Tesla:
"At the end of the day, we're coming out looking at the world from a different point of view and saying: 'Forget the status quo.'  What if we just retooled everything slightly differently, took longer to make it happen… but the end result will be much better?".
Lead developer Paul Glinker agrees that it's Plexxis' pioneering spirit that drives the comparison to Tesla:
"It could be the Tesla truck, but without the defective windshield 😊  It could be any of the cars. But not just because Tesla is the most technologically advanced car company in history. It's because they're trailblazers. They set the bar.  They define what's possible.  That I think, is the same for Plexxis."
Ali Abbas, lead programmer ERP has the final word:
"Tesla. We have their dreams. Those dreams definitely seem daunting at times, but we're going to change the world and we have been changing the world."
Certainly, these are all vastly different but revealing car brand comparisons. Why such a wide variety?  Maybe this simply speaks to what matters most to different individuals – and how different people at Plexxis love different aspects of the culture?  After all there are many things that uniquely define the Plexxis experience: from innovative thinking and collaboration to hard work and awesome perks.
Whether you see us as an innovative Tesla, a luxurious Ferrari, a tough truck, – or a fantastical magic bus – once you work for us, we're certain you all will agree about one thing: Plexxis delivers a truly amazing ride you'll be hard-pressed to find anywhere else. 
Think you have the right stuff to join the Plexxis Truth League?